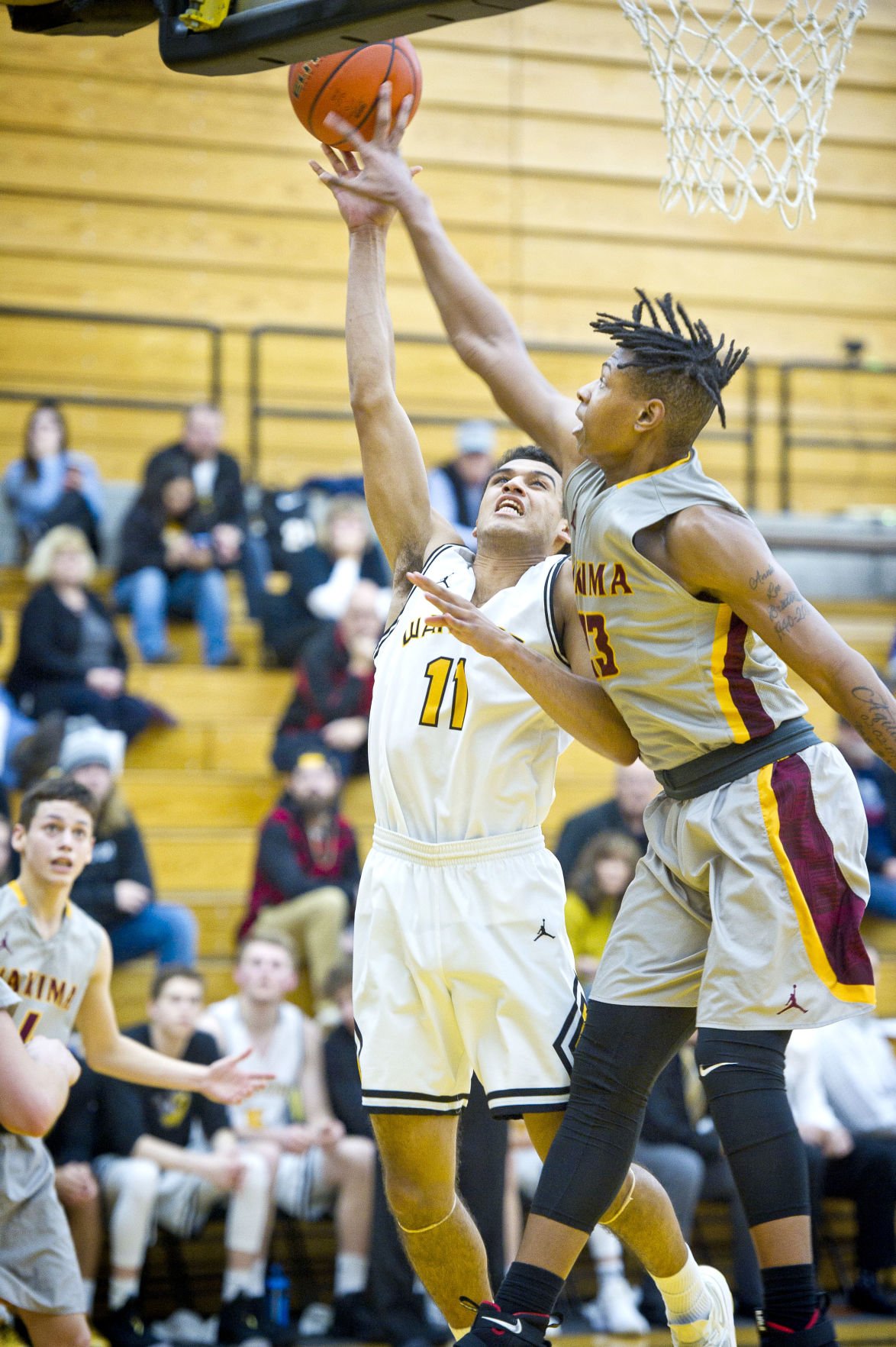 Walla Walla and Yakima launched 75 shots each Monday afternoon in the Dietrich Dome during their Northwest Athletic Conference East Region men's basketball game.
The Warriors and Yaks collected 44 rebounds each and were likewise tied with 11 assists, 12 turnovers and 15 personal fouls each.
Close game, right?
Well, not as close as those numbers might suggest.
The Warriors made six more field goals than did the Yaks, including one extra 3-point basket. And they outscored their guests 17-11 from the free-throw line in notching a 100-81 victory.
The win bumped Walla Walla's East record to 3-1 and its season mark to 13-4. Yakima slipped to 3-2 and 12-6.
After trailing for much of the game's first seven minutes, the Warriors snapped a 20-20 deadlock with back-to-back baskets by Landon Radliff and Marcus McKone for a four-point advantage with 9:55 remaining in the first half. It was a lead the Warriors would never relinquish.
Back-to-back 3-pointers by McKone ignited a 17-6 WWCC run over the final 5:56 of the first half and the Warriors took a 45-33 lead into the intermission. The Yaks closed to within 10 points, 77-67 with 5:35 remaining in the game on a 3-pointer by Quinten Raynor, but they never got any closer.
Nevertheless, Yakima's grinding dribble-drive offense proved to be a challenge from the opening tip to the final buzzer.
"It's just so hard to defend," Warriors coach Jeff Reinland said of the Yakima offense. "They are so quick and so athletic, and they have guys who can step back and hit the 3.
"I am a little disappointed that we let them get free for some of those deep 3. Kids sometimes have a little trouble understanding that, but I thought our guys did a pretty good job of playing through it."
Damen Thacker, WWCC's freshman point guard, led all scorers with 28 points as he knocked down 11-of-19 shots from the field. McKone came off the bench to make 6-of-11 3-point shots and finished with 22 points, and Radliff scored 16 points despite a 1-of-8 showing from downtown. Brandon Porter added 12 points and freshman post Jake Albright, making his first start of the season in place of sophomore Gary Engstrom contributed 11 points and six rebounds.
"Jake's just been playing so well that we decided to start him today," Reinland said of Albright, who had 16 points and 16 rebounds in WWCC's 79-68 victory at Big Bend on Saturday. "Jake's thicker and stronger than Gary (Engstrom). Gary is taller and leaner.
"But Gary's OK with it," Reinland added. "He's a team guy."
The Warriors got a scare early in the second half when McKone limped off the floor with what appeared to be a leg or ankle injury. But he returned four minutes later and sank two clutch 3-pointers late in the game.
"He bumped his knee, but he's all right," Reinland said. "I think it scared him more than anything."
With starting forward Kendall Watson already on the bench with foul trouble, the Warriors found themselves shorthanded when McKone, the team's sixth man, left the court. Watson scored six points in less than 14 minutes of play.
"Kendall had to sit so much, I don't think he was ever mentally able to get back in the game," Reinland said.
Trey Delp scored 17 points to lead five Yaks in double figures. Gamaun Boykin finished with 16 points, Raynor 14, Modesto Britten 13 and David Lindgren 12.
Yakima had trouble at the free-throw line sinking 11-of-20 chances. The Warriors were 17-for-21 and were 10-for-13 in the fourth quarter when the Yaks were forced to gamble defensively.
Walla Walla travels to North Idaho Wednesday. Yakima entertains Wenatchee.
YAKIMA (81) — Raynor 5-12 1-2 14, Boykin 7-14 2-4 16, Blodgett 3-7 0-0 7, Lindgren 5-13 2-3 12, Brown 0-2 0-2 0, Britten 5-10 3-5 13, Delp 5-13 3-4 17, Davis 1-4 0-0 2. Totals 31-75 11-20 81.
WALLA WALLA (100) — Porter 4-11 4-4 12, Thacker 11-19 4-5 28, Radliff 5-16 5-5 16, Miller 0-0 0-0 0, Smith 0-0 0-0 0, Anderson 0-0 0-0 0, Kitchen 1-1 0-1 2, Watson 3-4 0-0 6, Ramos 0-0 0-0 0, Engstrom 0-1 2-2 2, Albright 5-7 1-2 11, McKone 8-16 0-0 22. Totals 37-75 17-21 100.
Halftime — WWCC 45, Yakima 33. 3-point goals — Yakima 8-19 (Raynor 3-6, Boykin 0-1, Blodgett 1-2, Lindgren 0-3, Delp 4-7), WWCC 9-28 (Porter 0-5, Thacker 2-4, Radliff 1-8, McKone 6-11). Total fouls — Yakima 15, WWCC 15. Fouled out — none. Technical fouls — WWCC (Radliff). Rebounds — Yakima 44 (Britten 7), WWCC 44 (Porter 8). Turnovers — Yakima 12, WWCC 12. Assists — Yakima 11 (Raynor 3, Boykin 3), WWCC 11 (Radliff 6).
Union Bulletin