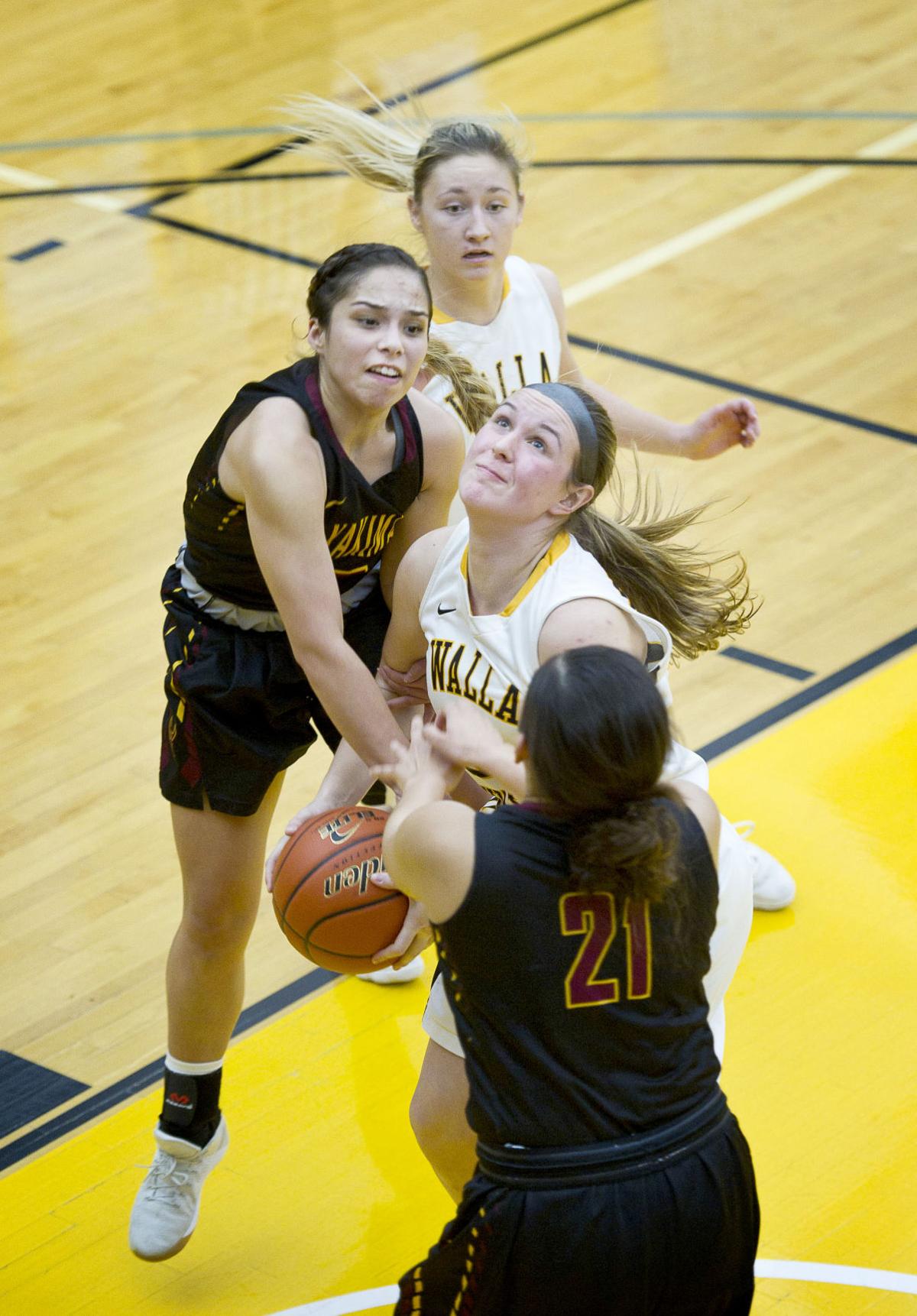 When Yakima Valley took the court in the Dietrich Dome Monday afternoon to take on Walla Walla in a Northwest Athletic Conference East Region women's basketball game, there were only six Yaks in uniform.
It looked like a mismatch against the 15-1 and No. 2-ranked Warriors, even though the Yaks came to town with a 12-4 season record of their own.
But Bobbi Hazeltine, Walla Walla's veteran head coach, knew otherwise.
"They have three of the best players in the league," Hazeltine said of the Yakima trio of Kamri von Oelhoffen, Sequoia Wheeler and Shiniah Holt. "That's scary, and all three of them were there."
So Hazeltine wasn't surprised when, after building a 20-point lead with less than four minutes to play in the game, her team had to fight off Yakima's feisty six down the stretch for a 93-83 victory.
"We may have missed a few putbacks and got a little tentative at the end," Hazeltine said. "But that's my fault. I tend to want to pull back when we get a big lead."
The Yaks normally have a roster of 12 players. But six players were held out for disciplinary reasons, Hazeltine said.
"That's all he (Yakima head coach Adam Strom) told me," Hazeltine said. "We didn't know about it until 10 minutes before the game."
That didn't change the Warriors' game plan, however, other than to start four guards along with sophomore post Adrianna Peralez. WWCC has been starting three guards and two post players.
"We always like to run, and we thought we could tire them out," Hazeltine said. "We were wrong. Yakima showed a lot of character."
Sophomore Kortney Hutchinson, getting the start as WWCC's fourth guard, scored the game's first bucket on a layin. But Yakima responded with a 7-0 run and didn't relinquish the lead until Peralza scored three consecutive baskets for a 16-14 Warriors lead with 5:07 still to play in the first quarter.
"I thought Kortney hit some really big baskets for us," Hazeltine said of Hutchinson, who finished with 11 points on 5-for-8 shooting from the floor. "I thought she was kind of the glue for us today."
WWCC took the lead for good, 19-16, on sophomore Teresa Acock's third 3-pointer of the quarter. She would go on to sink three more treys and tally 18 points on 6-for-10 shooting from behind the arc.
The Warriors led 31-23 after a fast-paced first quarter, extended their lead to 55-38 at halftime and took a 62-71 lead into the fourth quarter.
Yakima trimmed WWCC's lead to eight points, 73-65, in the first minute of the final period. But a technical foul on the Yakima bench seemed to stem the Yaks' momentum.
Cierra Jo McKeown knocked down both technical free throws and fired home a 3-pointer to restore a 13-point lead, 78-65, with 8:55 remaining. Hutchinson followed with a three-point play as she drew a foul on a fast-break layin and suddenly the Walla Wallans were back in complete control.
Acock's sixth 3-pointer of the game boosted WWCC's lead to 90-70 with 3:45 on the clock. And even though the Yaks finished the game on a 13-3 run, the outcome was never in doubt.
McKeown led six Warriors in double figures with 20 points. Jade Skidmore scored 16 points, Taylor Turner came off the bench to score 12 points and Peralza finished with 10.
"That's a little unusual for us, but I love the scoring balance," Hazeltine said.
Von Oelhoffen, an innovative 5-foot-7 freshman guard out of Richland, led all scorers with 31 points as she connected on 11-of-22 field goals, including three 3-pointers. Wheeler finished with 19 points and Holt tallied 15.
The Warriors dominated the backboards 50-27 as Skidmore collected 12 rebounds and Turner 11.
"We had 28 offensive rebounds," Hazeltine noted. "They were missing one big post player who could have made a difference. But they had the big three."
The Warriors are now 4-0 in NWCA East play heading into a Wednesday night game at North Idaho. Yakima is 2-3 and entertains Wenatchee Wednesday.
YAKIMA (83) — Holt 7-13 0-0 15, Mills 4-6 0-0 8, van Oelhoffen 11-22 6-11 31, Wheeler 8-15 2-3 19, TakesEnemy 4-7 0-0 8, Swan 1-4 0-0 2. Totals 35-67 8-14 83.
WALLA WALLA (93) — McKeown 7-18 2-2 20, Andrews 1-2 0-0 2, Acock 6-12 0-0 18, Skidmore 8-19 0-0 16, Hutchinson 5-8 1-1 11, Radford 0-0 0-0 0, Gunter 2-4 0-2 4, Turner 6-9 0-0 12, Bowen 0-0 0-0 0, Dietrich-Denton 0-0 0-0 0, Peralza 5-8 0-1 10.
3-point goals — Yakima 5-19 (Holt 1-5, von Oelhoffen 3-8, Swan 0-1, Wheeler 1-4, TakesEnemy 0-1), WWCC 10-24 (McKeown 4-12, Acock 6-10, Gunter 0-1). Total fouls — Yakima 11, WWCC 8. Fouled out — none. Technical fouls — Yakima (bench). Rebounds — WWCC 50 (Skidmore 12), Yakima 27 (van Oelhoffen 8). Turnovers — WWCC 16, Yakima 8. Assists — WWCC 19 (McKeown 8), Yakima 5 (van Oelhoffen 3).
Union Bulletin